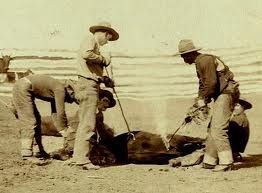 No, not this kind of branding! :)
I have been thinking lately about my "brand". If you don't know what that is I'll fill you in...a brand is what defines you, what your style is. It's colors, logos, the way you edit pictures, your fashion sense. Everything that makes up
you
is your brand. So when in the process of "making" my brand for this blog and my photography business it has been anything but easy.
I wanted to take some time and write down what I would like my brand to be
Real. I want my photographs to convey raw life when I'm at home
and when shooting for a client.When you look at my photographs
I want you to see happy, beautiful people, not staged, posed models.
Positive. I think too much of my time is spent thinking about
how things could be better, I want to look on the bright
side of things and live in the moment.
Natural. I want my blog and my business to be me being myself.
I also want to send that message through my photographs, people being
in their natural state, happy.
Laid Back. On some blogs and photographs that I look at it's all
just in your face. I want you to feel comfortable on my blog and when
you are viewing my photographs.
As far as a color theme goes I don't really have a preference. I want more "calming" tones instead of bright, wild ones. My dad and I are in the process of making a logo for myself I think that that will help move things along and help me figure out how I want my brand to look.
What are your thoughts on "branding"? What kind of brand do you think I should have? Any opinions on a color theme for this blog and my business logo? Thanks in advance for your help!
Grace