(from left to right. Bella, Taylor, Lana, and Me, but you can call us the

Fantastic Four

!)
These are some of the most sweet, serving, God-loving, girls I know; and this is the story of my weekend with them.
I was supposed to be at the camp for 7:00 o'clock on Friday, but after a migraine filled morning and my mom having to pick my dad up from carpooling with his friend to work (dad's car is in the shop) I got there a little late.
As we drove up the camp driveway I started to feel it happen...the thing that always happens at camp...feeling a since of belonging and a closeness to God. As my dad pulled up by the cafeteria I could fill the excitement building up more and more. I was so anxious to see all the people that I haven't seen in a almost a year.
I stepped out of the van and tried to figure out what building I was supposed to be dropping my suitcase at. I walked into the office and the feeling that started at the driveway got bigger and I started to smile BIG. I asked Mrs. Debi (the best boss ever) where I was supposed to drop of my suitcase. She told me that I could leave it in the staff lounge. I was now so anxious to see everyone again that I wished that I could use the force to move all my things!
I ran to the van (still parked by the cafeteria) and was telling my parents to drive around to the office and drop my things off. In the middle of telling my parents this I heard a familiar voice, I turned around and it was Taylor! We both of course (for lack of better words) went crazy. We were hugging and screaming, it was awesome! I finished telling my dad where to go and then Taylor and I headed back to the office holding hands :). In the middle of walking back to the office we ran into all the other C.I.T.s, so again we all went crazy, hugging, screaming and laughing. They all walked to the cafeteria and I ran to the office to put my suitcase up.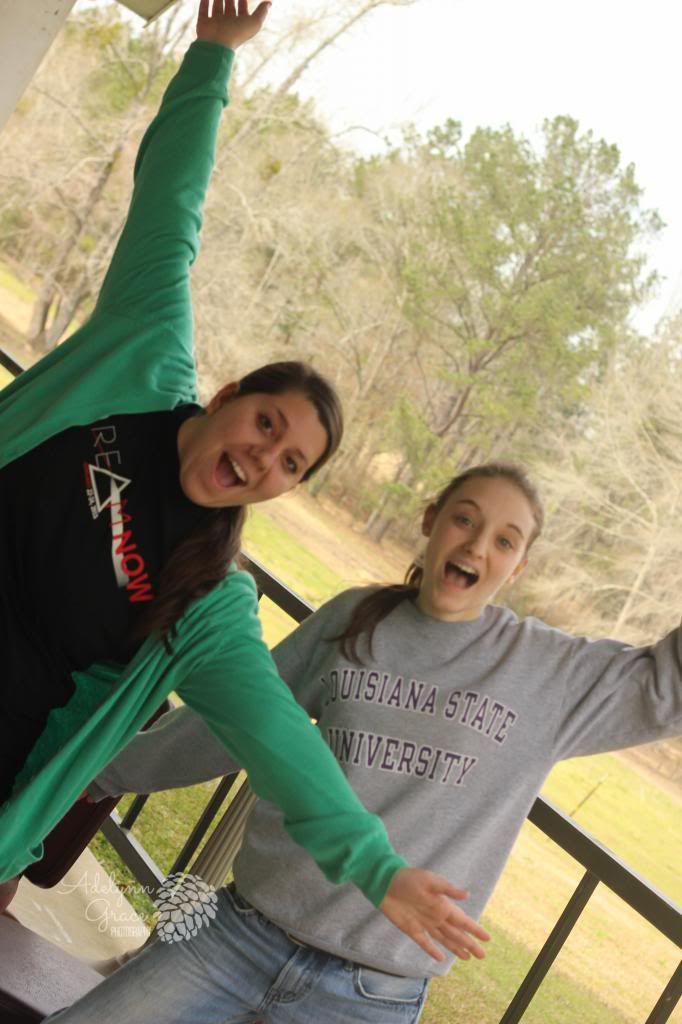 After that I jogged to the cafeteria smiling all the way. I was surprised to see how many people there were (there were two camps going on that I had no prior knowledge of). I went to get in line for supper when I noticed June and Ruben where there, so of course I had to say hey and give both of them a kiss on the forehead :). I got my plate and sat down at the round table that is supposed to fit about six, since we all wanted to be together we were fitting about twelve! Since there were so many people at one table we had at least three conversations going at one time. We were all catching up and talking about fun things that happened last summer.
When we were finished eating we went to the staff lounge to play "get to know you games" even though most of us knew each other We played catchphrase for about and hour and a half! Then we loaded up our things in Lana's car and drove to Sleepy Hollow (cabin number three).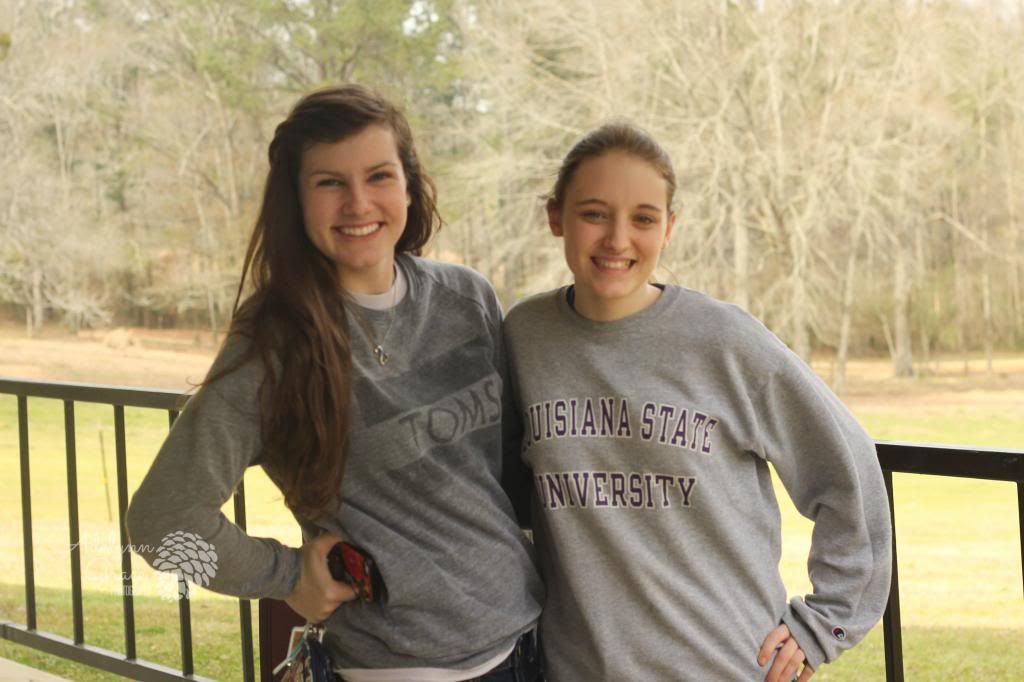 (excuse the "out-of-focusness" of some of these, Olivia took them.)
We got to Sleepy Hollow, went to "side one" of the cabin and unpacked our things, changed into our pajamas, and talked about all the things that have happened to us since last summer. After about an hour or two of that some of us wanted to go to "sleep" so all of us that were still talking went to the day room (the room that connects the two sides of the cabin together) with blankets and pillows in hand we talked till 12:30 in the morning!
We talked about everything from how we feel individuality about dating, how it's hard sometimes to know the details of what God wants you to do with your life, to what you should do when you get in a wreck, to what we can do to help the human trafficking awareness movement in our state. I loved being able to talk about these types of things with people that love the Lord, and feel as strongly as I do about these topics.
Saturday morning we woke up, got dressed, and drove to the cafeteria for breakfast. We sat down at our over-seated table holding hands and sung our blessing. "Oh the Lord is good to me, and so I thank the Lord, for giving me the things I need, the sun, and the rain, and the apple seed." After two cups of coffee, orange juice, biscuits, sausage, and grits we were told to go to the staff lounge. There we were told what our day was going to look like. Then we were dismissed to have our own private time with God.
After I found a quiet place I started reading in 1 Peter. In the middle of my devotion I heard someone in their motel room playing the guitar. It was so amazing to have "background music" for my time with God! I then pulled my camera from it's bag in the office and walked around the campus taking pictures.
We all met back up at nine o'clock and had a time to share what the Lord had laid on our hearts during devotion time. Mrs Debi and Mr. Eugene then shared about what they would like our focus to be this coming summer.
After that the maintenance guys (Seth, Scott, and Blake) and the wranglers (Olivia and I) went with Mr. Steve (the other best boss ever) to have our interview. The guys had had their interviews the day before so they were dismissed to do whatever. Then we (Mr. Steve, Scott, Olivia, and I) piled on the golf cart and rode to the barn.
There we had our interview in Mr. Steve's "office" which is a tack room with five-gallon buckets turned upside down for chairs. He handed us each a paper of guidelines and things that our expected of a wrangler. We briefly went over the paper and then talked about what weeks we were available to work this summer. At the end of the interview he told us to take the guidelines home and read them thoroughly and let our parents read them, pray and have our parents pray all week. Then at the end of the week call him and tell him if we think God is leading us to work there or not.
After our interview we caught, brushed, and saddled our horses and went on a trail ride. When our ride was through we went to the arena and practiced not bouncing so much when trotting and loping.
Then it was lunch time! After "filling up" we went back to the barn and caught and saddled some more horses for the staffers that wanted to go on a trail ride. After our second trail ride of the day we unsaddled all but Honey and Snooper and let them out in the holding pen. I then drove Olivia and I in the golf cart down to Sleepy Hollow and packed up our things and then headed back to the office.
We walked in on a Mrs. Debi talking about all the C.I.T.'s interviews and what was the next step in the process of becoming staff. When the serious talk was over everyone started loading up their cars and getting ready to leave. After pictures were taken, hugs were given, and numbers were exchanged they all drove home.
(I can't wait to spend my summer with these crazy nuts!)
Olivia and I went back to the barn, rode to the arena, and practiced our trotting and loping some more. Then we rode back to the barn unsaddled our trusty steads and let all the horses out in the pasture.
Olivia then called her dad and he came to pick us up and drove us home. When it was time for bed Saturday night I pulled my pillow and blanket out of my suitcase...they smelled like the cabin! Needless to say I slept very well!
This was my weekend. It was amazing!